"Captive Sustainable Solutions", article appears in the 2023-24 Bermuda Business Review magazine.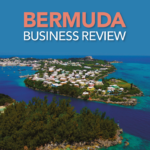 The Bermuda Business Review 2023 ~ 2024 − published by the Times Group in association with the Bermuda Business Development Agency (BDA) and launched at the 2023 Bermuda Climate Summit – provides insights into the ongoing transformation of Bermuda's business landscape focused on the key pillars underpinning its highly successful international business activities.
The Review examines Bermuda's response to the unprecedented changes of recent years and how its key sectors such as tourism and financial services are adapting to contend with the new challenges and opportunities they must now face, not least climate change, geopolitical uncertainties, increasing regulation and economic substance requirements, plus the disruption caused by rapidly developing new technologies and digitalization.
Whilst the ESG ecosystem evolves within Bermuda's financial services, the Review highlights how the Island is also taking the lead in the vanguard of conservation, raising awareness of the importance of the Blue Economy and working with other nations to help preserve natural habitats and the environment for future generations.
With authoritative insight and informed comment from business leaders, industry analysts and journalists, the publication also reveals how the Island is proactively engaging with global markets, as it drives sustainability, raises the effectiveness of the structures and services it provides for private, corporate and institutional clients, whilst contributing to a digital future that drives sustainable finance and enhances our ability to reduce the impacts of climate change. An informative reference source for governments, investors and industry, it reflects on current trends and the structures and services available in Bermuda aimed at serving the shifting requirements of investors and businesses, engaging ESG criteria and targeting efforts aimed at climate risk reduction.
This Bermuda Captive Network article written by Andrew Vaucrosson can be found on pages 60-63, or you can click on this LINK to see the on-line version of this magazine.