Captives still face LatAm barriers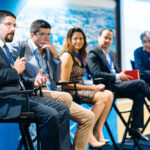 Latin America remains an emerging area for the captive insurance market, attendees heard at the Bermuda Captive Conference.
A panel discussion at the conference pointed out that Latin America is a small but growing area of the market at the moment. Latin America makes up 7% of global GDP, with growth of 4.3% over the next few years (2022-2026) expected. Brazil & Mexico make up the largest part of that GDP.
Panel moderator Bartolome Massot, associate director at Artex Risk Solutions; Julián Roberto Ávila, partner – reinsurance at DRET; Luis Delgado, vice president and director at SRS Latin America; and Luis Torres, international projects and captives senior manager – reinsurance representative at INTER, all discussed where the area is on the global captive map. 
Read more, click on this link: Captives still face LatAm barriers: Bermuda Captive Conference (captiveinternational.com)